December 14, 2017 9:45 am
Leave your thoughts
Sorry it's been so long since my last post, if you read on, all will become clear.
It's that time of year again.  When I'm not out tidying, dividing and planting, improving the ground or planning
new projects with my clients, then we're making Christmas Wreaths using materials from around the client's garden.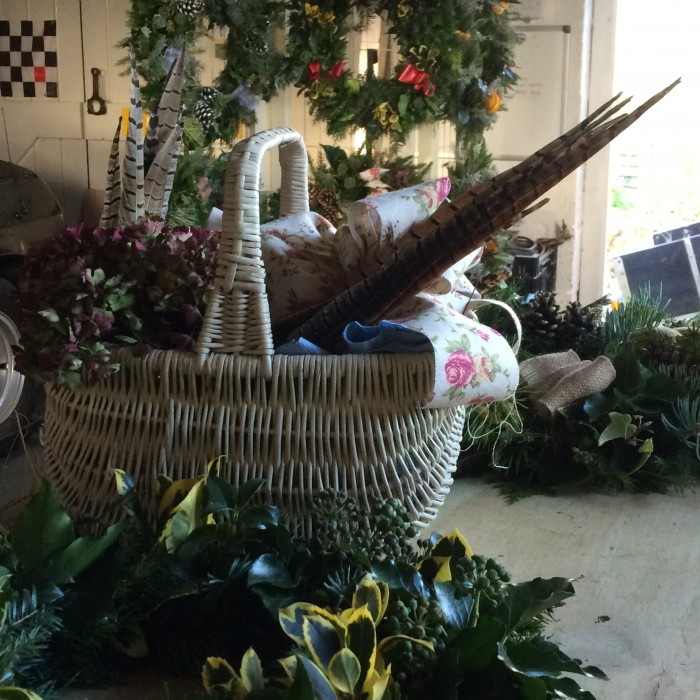 What better way to spend a cold winter's afternoon than sharing a glass of mulled wine and a mince pie,
or just tea and cake and good company?
I'm afraid this one is not for sale
For a number of years, when I first left college, I took seasonal jobs to supplement my income.  My summer job was with The Herb Nursery  and in December I worked for a local Christmas tree grower as a wreath maker.  I thoroughly enjoyed the company of my wonderful employers, the fantastic atmosphere and the creativity  I was allowed to express.  Very sadly one of the co-owners passed away and the business changed hands.  I very much missed my month on the Christmas tree farm, it really set me up in the festive spirit.
Every year I said that I was going to set myself up to make wreaths and sell them for myself.  Some years went by and I still hadn't realised this ambition.
This year is different!  Having recently lost my Mum I was spurred into action.  I know I'm not alone in finding the loss of someone so close and so precious, is a wake up call to how short life really is. So this year I AM making Christmas Wreaths and selling them!  This is not only realising my ambition but also helping me to cope with my loss.  Many of you will probably know that being outside, close to nature and creativity are all excellent for your mental health.
Here is a selection of  my Christmas Wreaths
'Traditional'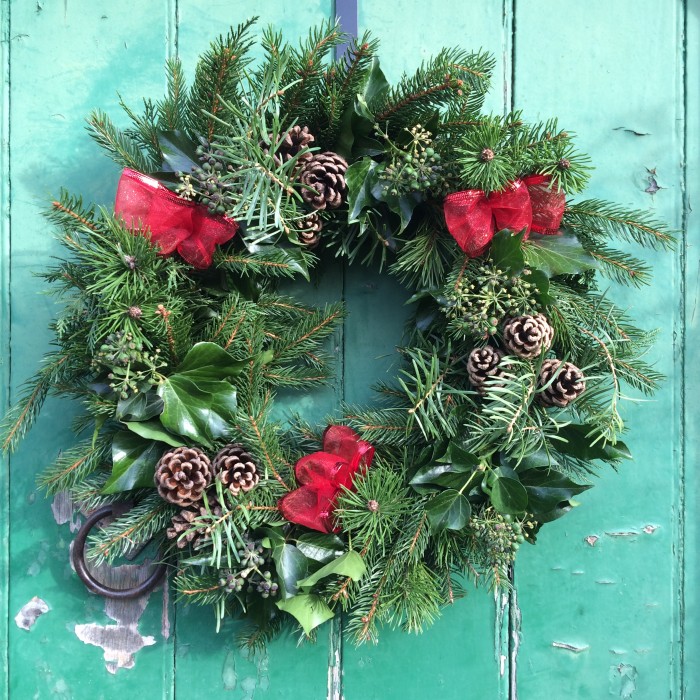 Mixed foliage wreath with natural cones and traditional Red Ribbons.
Small £15.00 Large £20.00
'The Winter Garden'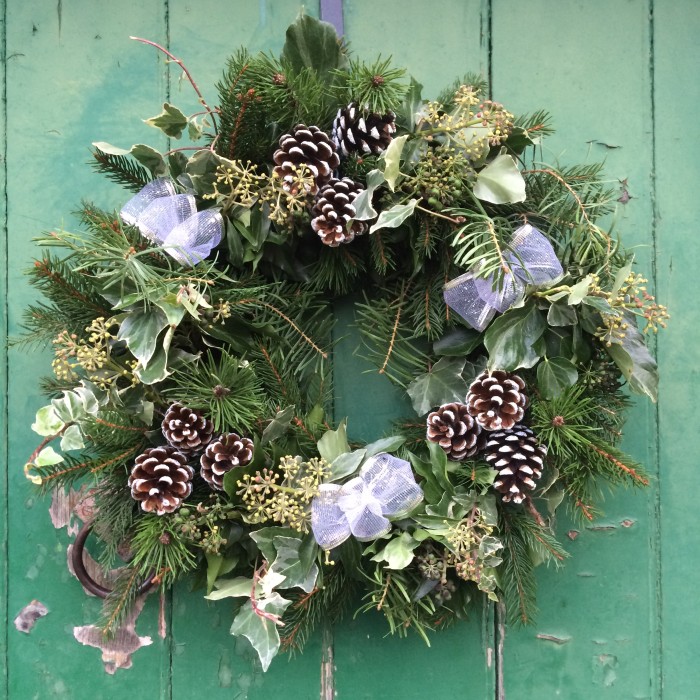 Mixed foliage wreath with white, snowy cones, silvery ribbons and pale foliage.
Small £20.00 Large £25.00
'Au Natural'
Mixed foliage wreath with natural cones, hessian bows and lichen twigs.
Small £20.00  Large £25.00
'Herbal Heaven'
This is  to order only
Small £20.00  Large £25.00
Country Life Limited Edition £30.00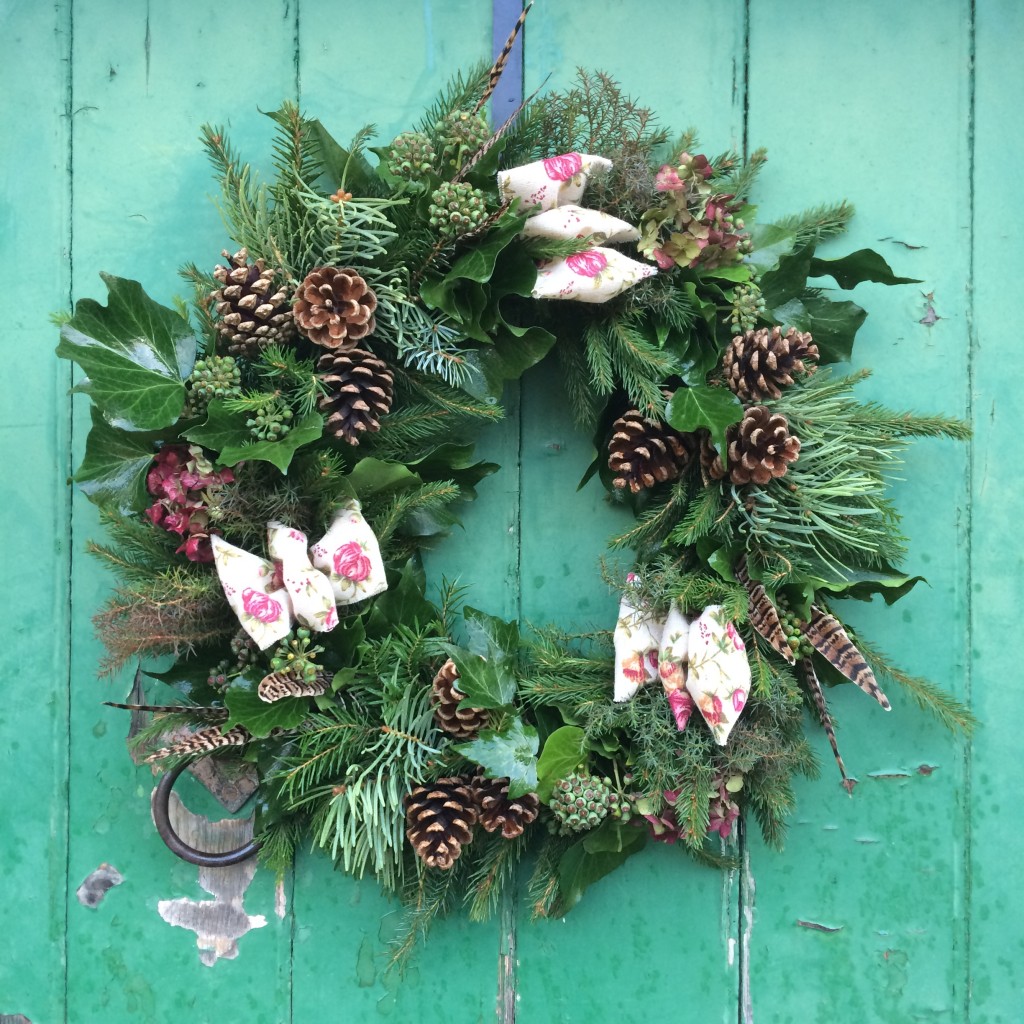 To Order Only
If you fancy making your own wreath but aren't sure where to start I will be running 'Wreath making for the Gardener' workshops next year.  I'd like to do them this year but I ran out of time.
Here are some tips on the kind of materials you can find around the garden to make your own.  Failing that, get in touch and buy a ready made one!
Evergreens: If you don't have access to any pine type trees, try a backdrop of Laylandii hedge or any other conifer, this can be very effective.  Other evergreens which look good are variegated Euonymus, Osmanthus, Eleganus and Plain or Spotted Laurel.
Edibles: Chillies, Aubergenes, Crab Apples if you can spare the odd Brussel sprout
Cranberries are not just good with turkey also huckleberries and blueberries
Flowers: I have also used winter flowers such as Mahonia or Viburnum, which are wonderfully fragrant.  These do not last for very long unless your wreath base is florists' foam which will hold water.
Dried materials always look good like Eryngiums and Hydrangea heads or be really adventurous with chillies, beads and feathers.
Berries:  If the birds have beaten you to the holly berries try using Pyracantha, Viburnum or even Rose hips and Hawthorne and of course Ivy.
If you include real berries on your wreath you can guarantee that the birds will eat them, so I've taken to creating a wreath especially for them!
'One for the Birds'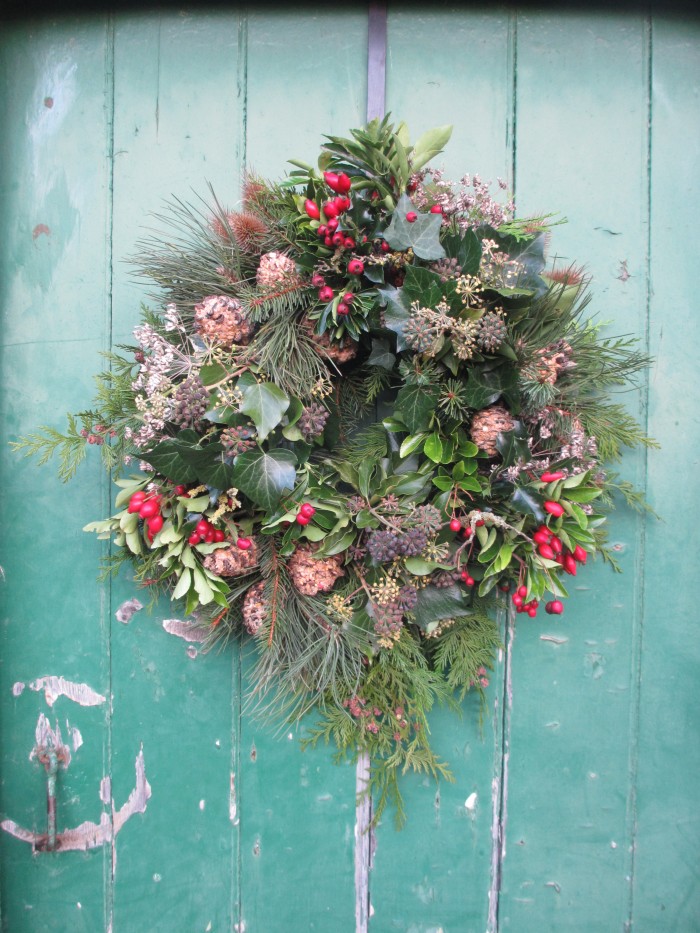 Mixed foliage wreath with buttered cones, berries and seeds.
Small £35.00 Large £40.00
To Order Only
Thank you all for taking the time to read my blog.
"Merry Christmas and a Happy New Year"
Please like, comment and share if you found this useful.
If you would like to order a wreath or discuss any of my other services, please do get in touch:
07870 603953 or debbie@creativegardendesign.co.uk